BE FRIENDS WITH FIRST LADY ON FACEBOOK OR FOLLOW HER ON TWITTER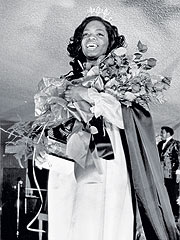 Oprah was Miss Black Tennessee
The all-of-a-sudden politically-incorrect sounding Miss Black America pageant announced Tuesday morning that it would revive the national beauty competition that featured past contestants such as Oprah Winfrey and Toni Braxton, reports the Baltimore Sun.
In addition to bringing back the pageant after a 15-year absence, organizers will now offer a Little Miss Black America pageant for ages 9-12 and Miss Black America Teen pageant for ages 13-17.
The Miss Black America pageant is open to women ages 18-29. The announcement was made at the American Visionary Art Museum in Baltimore.
"I don't think there was less of a need from 1995 until now, but there is certainly an exaggerated need now," said Aleta Anderson, executive producer for the pageant.
"We are concerned with replacing negative images with positive images," Anderson said. "We want to expose the contestants to a variety of environments that are available to them."
Read MORE of this story HERE.
For competition forms, click HERE.
Also On 106.7 WTLC: