The best part of last night's Grammy awards wasn't the presentation, but the moments in between that totally made it worth losing four hours of sleep on a Monday night.
Here's 10 moments you probably didn't notice:
1. Tori Kelly Gave Taylor Swift The Stank Face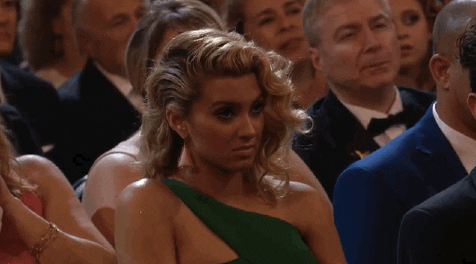 Chile, if looks could kill Taylor Swift would be dead to the bed.
We're not sure what was going through Tori Kelly's mind while Taylor Swift gave her acceptance speech for Album Of The Year, but she surely wasn't here for it. The rising vocalist was caught giving her best Eli Manning face. Yikes.
2. White People Were Confused By Kendrick Lamar's Performance
Forget Beyonce at the Super Bowl, Kendrick Lamar wins Black History Month with his uber Black set at the Grammys. At one point, the cameraman focuses on a group of White audience members who look like they're mid-reach for their pitchfork. The Grammys were definitely trolling last night.
3. Trinidad James Won A Grammy
Trinidad James' snagged a Grammy for his co-writing credits on Bruno Mars 'Uptown Funk.' You may not have realized, but Bruno borrows Trinidad's line, 'don't believe me just watch,' from his hit song 'All Gold Everything.' James reportedly banked $150,000 off the record of the year.
4. Snoop Dogg Watched The Grammys From His Living Room
5. Was There A Silent Protest Going On?
Rihanna, Lauryn Hill and Nicki Minaj all pulled out of their performance at the last minute citing different reasons for their absences. While Nicki warned fans she wouldn't be performing, despite a commercial that promoted otherwise, Rihanna reportedly pulled out due to bronchitis.
Grammy-goers also noticed Lauryn Hill didn't show up even though she practiced with The Weeknd during sound check. Perhaps it's a coincidence, but fans think it was a silent protest against the award show that lacks diversity.
6. Adele's Piano Mic Fell & Led To Her Off-Key Performance
Adele faced some technical difficulties during her performance last night and chalked it up to the fact, "shit happens." According to Adele, who took to Twitter to defend her performance,
"The piano mics fell on to the piano strings, that's what the guitar sound was. It made it sound out of tune"
Then she treated herself to a burger.
7. Taylor Swift Was Annoying
Here she is being way more excited for Ed Sheran than Ed Sheran.
Here she is doing a secret handshake. Not a secret handshake. Slaps forehead.
8. Russell Wilson & Ciara's Sexual Chemistry
Is it us or does it look like Russell Wilson got a little action? Not full blow s-e-x (he's celibate for goodness sake), but maybe some PG movie theater action.
9. Gwen Stefani Took A Spill
So Gwen Stefani didn't actually fall, her body double did. And we kinda think it was on purpose. Skip to the 3:08 mark to see the pileup.
10. Sofia Vergara Dressed As A Taxi
Pitbull was totally that old a** uncle in the club trying to cop a feel. And when is Sofia going to stop demeaning herself with these ridiculous depictions?
RELATED STORIES:
Kendrick Lamar Is The Blackest Thing To Happen To The Grammys + More Memorable Moments
All The 2016 Grammy Award Performances You'll Want To Watch Again
Did Taylor Swift Check Kanye During Her Grammys Acceptance Speech?
Tori Kelly's Face At The Grammys Was The Best Moment You Weren't Supposed To See  was originally published on hellobeautiful.com